Make a simple ponytail or braid sparkle.
Everywhere you look (like Pinterest mostly) you see so many gorgeous braids and pony tails. If you have basic crochet skills or just the desire to make these beaded hair ties you can easily add a glam touch to your next do.
To see step by step instructions and photos click here.
What youll need to make your Beaded Hair Elastics:
Hair elastic bands
Yarn – I chose something sparkly
Beads – assorted sizes and colors
Crochet hook
Beading needle
Yarn needle
Scissors
Step 1
Decide what beads you will be using and how many. You can lay them out around your hair elastic to get an idea of how many and how it will look.
Thread your yarn onto your beading needle and thread your beads.
(TIP: If you dont have a beading needle you can use a sewing needle and thread tied to your yarn to thread your beads, but I really recommend the beading needle it will make your life easier.)
Step 2
With your crochet hook do a simple slip knot onto your hook to begin and do single crochets, wrapping around your hair elastic every time.
When you add your bead pull it up as close to your crochet hook as possible and do a slip stitch, then do more single crochets around your hair elastic and repeat adding beads as you go around. I recommend doing 2 to 4 single crochets in-between your beads.
Step 3
When you are finished, slip stitch through your first stitch to join your crochet and pull your thread through and tie.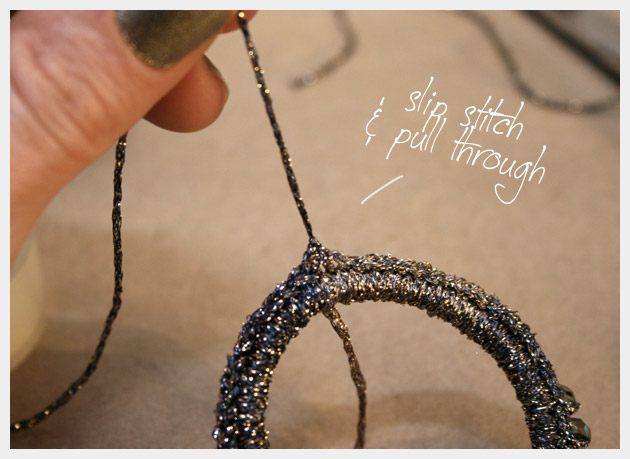 Step 4
Using your yarn needle sew in the ends of your yarn.
If your crochet skills are not the best you can see tutorials for the stitches here. Ive only used the slip stitch and the single crochet for this project. If you use enough beads and a sparkly yarn your stitches dont have to be perfect. Mix it up and have fun with it.
If you have any questions about this project please leave me a message in the comments.