Today's DIY 7 Rings Headband project was a request from my daughter who fell in love with Ariana Grande's hair in her 7 Rings video. So of course, the first thing I thought of when I saw it was, 'that should be a headband!' Because around our house, there never seem to be enough headbands! (They're kinda like scrunchies, evidently, you can never have enough of them.)
DIY 7 Rings Headband video
This is a super simple and fun DIY project to make. Check out the video to make your own!
This could also be a fun part of a costume for Halloween and it's super quick to make too!
Supply List:
The hair in the 7 Rings video that we're replicating is made with hair or hairpieces, but we had a really hard time finding a wig or hairpieces that were the exact pink color that we wanted. This is why we went with tulle, it's inexpensive, you can get almost any color (we found the exact pink we wanted), and it's pretty easy to work with.
Using some pink tulle and wrapping it tightly I was able to create the poufs to attach the rhinestones. You can make these as big or small as you like. 
To make the rhinestone bling on the poufs I used rhinestone chain and wrapped them together with a very thin wire to make the shape that I wanted. You can see this in detail in the video.
I also recommend using Aleene's Jewel-it to attach the rhinestones to your tulle. This is not sponsored by Aleene's, but this is a product I really recommend. I've been using it for years and it always works really well to attach rhinestones, metal, beads, etc to fabric. Just two tips when working with Jewel-it:
If attaching metal to fabric – let the Jewel-it sit for 5 mins before pressing the metal into it. (And let it dry overnight.)
Depending on what kind of stones or beads you use – it can be machine washed, but never put in the dryer!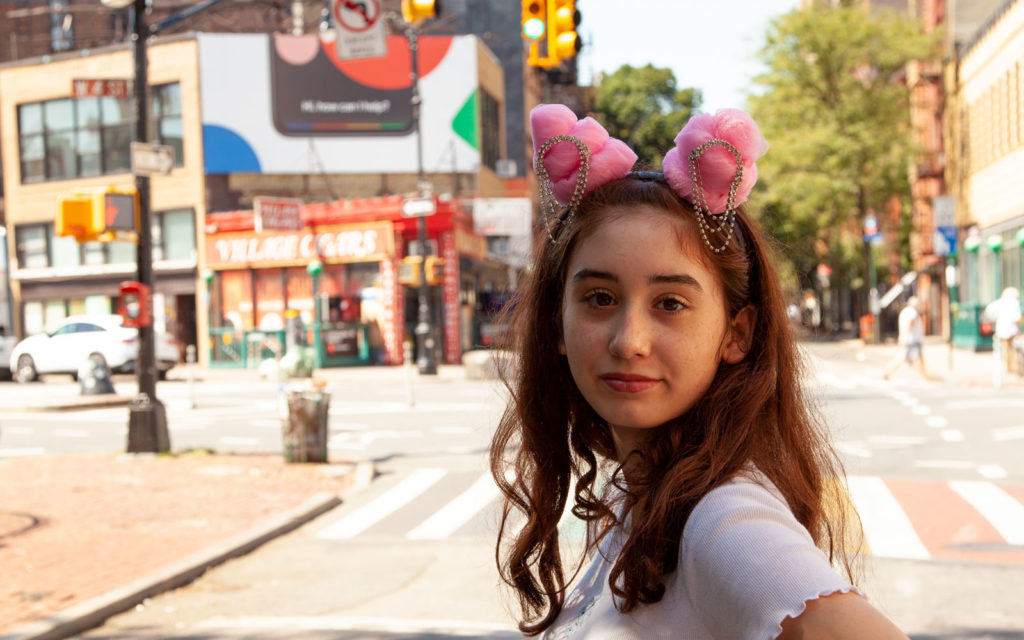 I think it turned out super cute and it was a lot of fun to make. With Halloween right around the corner, it could also be a fun part of a costume.