With unexpected materials and a bit of sparkle this DIY Safety Pin Bracelet with Brooch is just the thing to make an ordinary bracelet into a statement bracelet!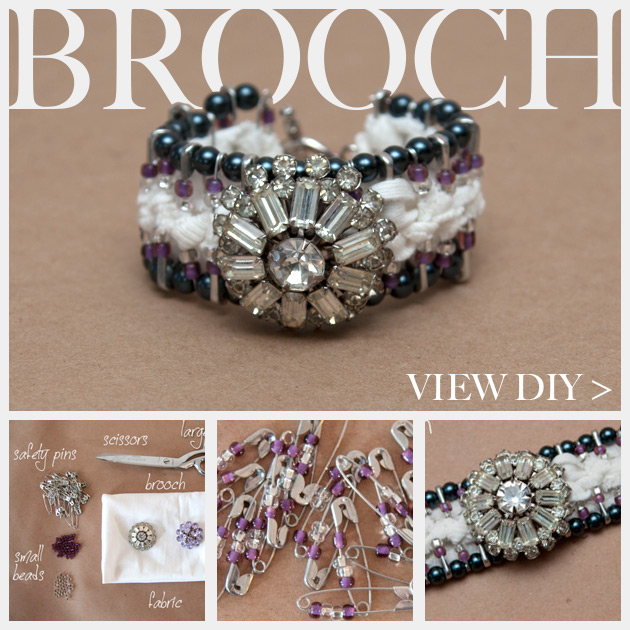 This bracelet has it all, sparkle, metal, fabric and beads, together in one cool bracelet.
TOOLS & MATERIALS:
Safety pins
Medium beads
Small beads – I used 2 colors
Fabric strips – I used a t-shirt
Needle & thread
Closure
Wire – the gauge will depend on the size of your large beads (I recommend the thinner the better)
Scissors
Pliers

step 1
Cut up your fabric or t-shirt into half inch strips.
step 2
Layout your safety pins and thread your small beads onto them.
I put 4 beads on each safety pin. 2 of the purple color on the outside and 2 clear on the inside.
step 3
Cut 2 lengths of our wire, slightly longer than your wrist measurement.
Bend a loop in the end of your wire, this will keep everything from sliding off.
Thread your safety pins and your larger beads onto your wire, alternating safety pin, bead, safety pin bead.
Then use your pliers to make a small loop at the end of the wire to close it.
step 4
Tye one end of your fabric to the end safety pin.
Begin weaving your fabric back and forth through the front sides of your safety pins in between your beads.
How much you weave will depend on how much space you have between your beads on your safety pins.
Do this all the way across the front of your bracelet.
step 5
When you get to the end after finishing the front of your bracelet, turn your bracelet over and weave your fabric through the back side of your safety pins.
Do this many times to fill up the space across your safety pins.
When you are finished tye a knot and weave your end in to hide it.
step 6
Using your needle and thread, sew your closures to your bracelet.
step 7
Add your brooch to the center of your bracelet.
You should be able to pin your brooch to the fabric on the front side of your bracelet.
This was one of those projects that sort of came together as I was making it. It was definitely a trial and error. But Im really glad I stuck with it because I think it turned out really fun. This is a true example of if you believe in it keep trying, at the very least youll learn something.
I love using brooches in DIY projects because you can change them out and each time you wear it it looks completely different. The best part is that if you only have one you can still create a lot of different projects with it or wear it many different ways. You can see a few examples here, here and here, oh and here too!
Leave me a comment if you have any questions or to let me know how yours turned out.